Many hands make light work. We are a family of parents, students and staff working collaboratively to provide the best educational environment in which our students will grow to their greatest potential.
Healthy minds, healthy bodies. Our mission is to provide a rigorous academic program to help students develop their minds and a comprehensive fitness program in soccer, tennis and martial arts, to help students develop their bodies.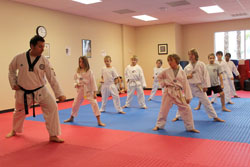 Proudly, our school maintains a rigorous academic program, with student growth that consistently exceeds a typical year of curriculum and instruction. This past year, we reached a school-wide average of nearly 150% growth in students in both Reading and Math (per Stanford 10 Assessments)! Wow!!
Fitness is also key at M.H.P.F.A.! Our Fitness program is exemplary, in that we follow a "team/coaching" model of Tennis, Soccer, and Martial Arts. These three sports are taught by highly trained, highly experienced professionals in the field!
Again, I thank you for visiting our webpage, and on behalf of our entire school, I also welcome you to take a guided tour of our facility, to see the first-rate programming for yourself. You may call our main office line or simply stop in. One look, and you will see why we continuously outperform traditional public and other community schools in many areas. We look forward to meeting you and your child!
Sincerely,
Timothy Baggs, Principal
Mt. Healthy Preparatory and Fitness Academy